10 Minute Musicals is an innovative development programme to support writers, composers, musicians of all genres in Wales and Internationally who are keen to write musical theatre.
The project was born in 2016 due to a huge gap in provision for those wanting to upskill themselves when thinking about writing for musicals or music theatre in Wales.
2020-2023 sees 10 Minute Musicals travelling pan Wales.
This project is of huge value to us as a company as we aspire to encourage and nurture new and existing creatives to write for musical theatre in Wales. International collaborations between artists is also of huge importance to us in order to open up discussions between Cultures and language.
Creative participants can include composers, playwrights, librettists, poets, musician and lyricists.
10 Minute Musicals includes networking, development of current practice and examining and providing the support artists need when evolving, progressing and advancing their writing skills for this genre.
We encourage a continued conversation with creatives and believe that this creative development project is a great springboard towards casting a new light on how you usually work.
Leeway Productions will provide mentorship support throughout the process and will support artists as they find their way through what could seem like a daunting task. There is a sharing of your work at Wales Millennium Centre as a culmination to the process and the participants' hard work as well as opportunities to see your work performed across the regions.
We have showcased work at The Other Room, Cardiff, Pontio in Bangor, Aberystwyth Arts Centre, Taliesin Swansea as part of the Wales Theatre Awards, Focus Wales 2018 in Wrexham to name a few.
---
CALLING OUT: COMPOSERS/ PLAYWRIGHTS/ LIBRETTISTS/ POETS/ MUSICIANS/ LYRICISTS
Who We're Looking For
10 Minute Musicals are looking for fresh innovative voices who are willing to push boundaries and play with form; creatives with a passion for the continued development of their practice.
10 Minute Musicals want you to have an openness to play, to be willing to try new approaches to develop the skills which will enable collaboration on a larger scale.
You will need to commit to 3 days, usually a Sunday, worth of collaboration between artists. Some of these collaborations may be International, which can be curated via SKYPE and using other innovative approaches. There are 3 specific workshop dates attached to each project where we will expect you to be ready to receive tasks which will help shape the work, which will also include a sharing of work at either Ffwrnes Theatre in Llanelli, Park and Dare Trecorci or Galeri in Caernarfon
When We're Doing This
Dates for projects during 2020:
Ffwrnes,Llanelli
- Feb 9th, 16th, 23rd
Times of workshops each day: 10-6pm
23rd: 6.30pm sharing of work

Galeri, Caernarfon

May 10, 17, 24 Times of workshops each day: 10-6pm
24th: 6.30pm sharing of work

Park & Dare, Trecorci

October 26th - 30th (half term week)
Times of workshops each day: 10am-3.30pm
30th: 4pm sharing of work
We will accept applications throughout the year.
Applying and Costs
How to apply:
Expressions of interest can be submitted as an individual artist and you will be matched with another artist OR as an existing writer/composer team. Please send a short example of your work along with a CV / Biog or a little about yourself and what you wish to gain from this opportunity to:
leewayprods@gmail.com
Please include your name, a contact email address and phone number and state which time of year you would like to take part.
This opportunity is FREE thanks to the support of Arts Council Wales.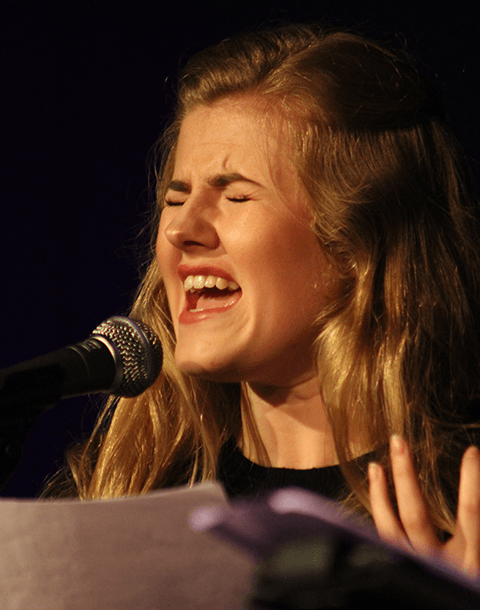 ---
With a perfect location for us, Porters bar in the centre of the city, there appears to be a real seed of excitement, with exceptional talent already in place.
Lowri Cook

What interested me specifically was how we were encouraged to hand over our natural instincts to push the area of skills we would normally use and collaborate in a way that helps you see the many clogs in the creating process
Francois Pandolfo (writer)

The week's experimental exercise has opened a wealth of possibilities for new musical theatre in Cardiff. It has been eye opening to learn that much more is possible from this art form that I had previously expected so little from. Well done to all concerned and I look forward to seeing the next developments.
Jane Oriel (Arts Scene Wales)