CASTING CALL: QUEERWAY CALL OUT FOR 1 ROLE
Due to queerway being postponed to january 2023 we are now casting again for one role
Queerway is a new musical, which explores the lives of Queer individuals in Wales. An original song cycle, built from a series of interviews with Queer people from, and living in the Valleys, Queerway is a swansong for identity, and a sequin-soaked celebration of community. Composed by Geraint Owen, Directed by Luke Hereford, with additional music by Branwen Munn, Queerway promises to be a soulful, feel-good view into the lives of Queer people in Wales.
We are now looking for one female or non- binary performer/ actor of any age, and are particularly interested in LGBTQ+ or Queer identifying people., with strong vocals and acting through song capabilities.
The project will utilise a small ensemble to embody various characters throughout the musical, who will majoratively be based on real-life individuals from community interviews with LGBTQ+ and Queer identifying individuals from RCT. It is a crucial goal for the ensemble of Queerway to represent a diverse spectrum of the LGBTQ+ community in Wales, so we encourage actors from the LGBTQ+ community to apply.
Throughout the rehearsal process, there are likely to be elements of devising, as well as the potential for actors to be interviewed in order for their words to be used as content for the musical. 
For all of the following roles we are keen to hear from actors of marginalised genders, identities and ethnicities.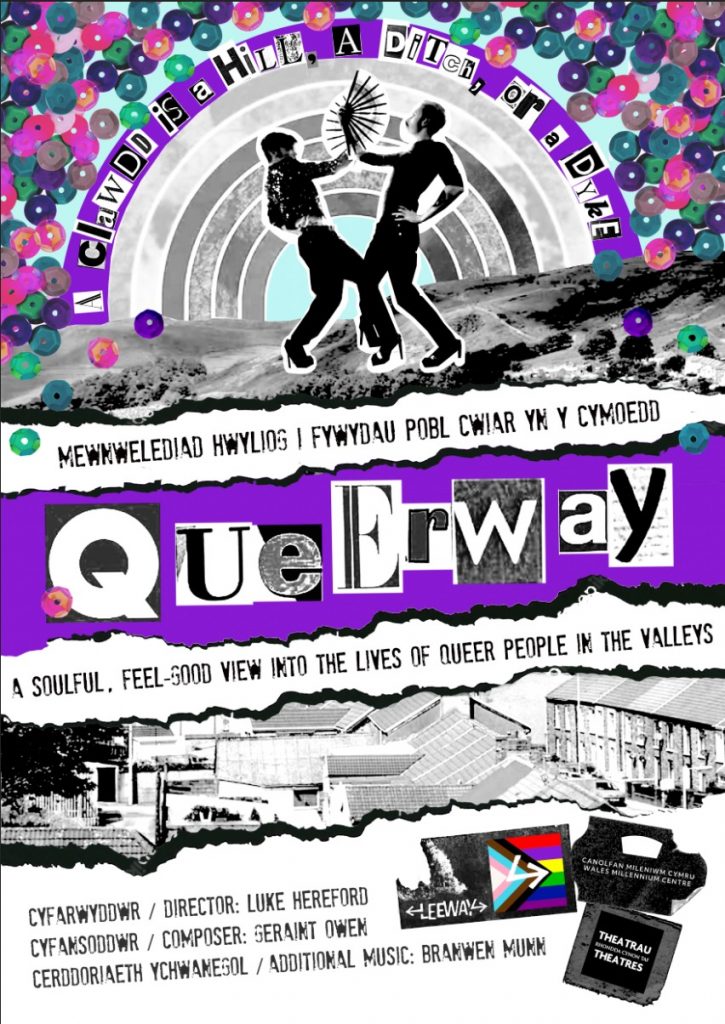 Rehearsals and initial production phases will be based in Wales Millennium Centre, Cardiff. Dates of commitment are as following:
Rehearsals:
w/c 9th January 
Tech week:
w/c 30th January
Performances:
–February 3-4th: Wales Millennium Centre, Cardiff
–February 9th:  The Factory, Porth
–February 10th: Theatr Soar, Merthyr
–February 14th: Ffwrnes Theatre, Llanelli
More dates to be announced.
The weekly fee for actors is £550p/w. For performances outside of Cardiff, travel and accommodation will be provided.
To be considered for one of these roles, please submit a self tape of a short musical theatre song – ideally under 2 minutes – alongside a Spotlight link or CV to Angharad Lee & Luke Hereford: leewayprods@gmail.com & lwhleewayproductions@gmail.com by 5pm on November 4th 2022.